Phase 1 of the LAX Terminal 4 project has been structurally completed!  This includes not just two new buildings but extensive structural enabling work. Our team provided full structural engineering services for Terminal 4's expansion, renovation, and seismic upgrade as part of American Airlines' long-term modernization investment at LAX.
The phased construction required the existing 1959 Satellite and 1999 Headhouse to be partially demolished, including key components of those building's seismic force resisting systems.  The "remnant" portions of those buildings would remain occupied for over 2 years, so they had to be made safe. The Satellite's partial demo triggered full compliance with modern seismic safety standards (ASCE 41-17 was the basis of design).
Saiful Bouquet's solution to the 1959 satellite avoided impact to the public space. Buckling Restrained Braced Frame (BRBF) buttresses were added outside the building, with pile foundations straddling tunnels, fueling, and other obstructions. Photo E shows the proximity of those frames to active boarding bridges and Phase 1 construction. Concrete ballast was added in Operations spaces to resist uplift at the discontinuous shear walls. Carbon fiber overlays provided a minimally intrusive strengthening of the existing shear walls.  Roof diaphragm strengthening was constructed within a deep attic space from scaffolding suspended above retail ceilings.
The Headhouse required full analysis of the "remnant" structure to demonstrate that it would be no less safe after its partial demolition.  Due to its 1999 vintage, the appropriate location of the cut line, and a bit of luck, our analyses demonstrated that no added work was required. Photo D shows the proximity of the new construction to the existing remnant.
New buildings are 3 to 4-story steel moment frames with SidePlate connections, featuring significant long span, high bay public spaces.  The photographs begin to show the openness of the new facility.
The remnant Satellite and Headhouse will be demolished in the next phase, and Phase 2 structures will be built.  Once the Phase 2 buildings are complete, the Phase 1 and Phase 2 portions will be seismically tied together as single buildings.
Stay tuned!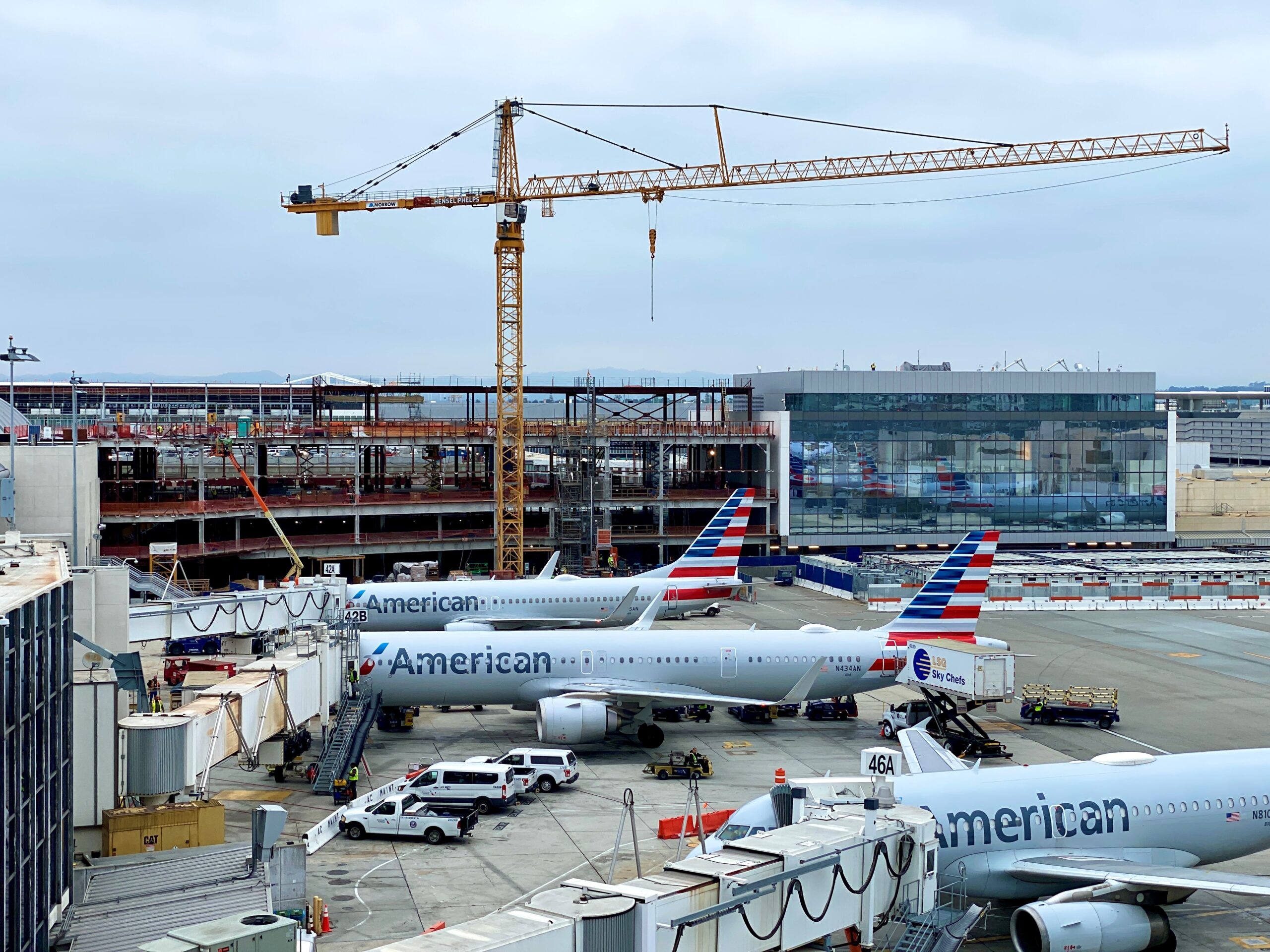 A- AA Terminal 4 – Steel Topping
B- AA Terminal 4 – Steel Topping
C- AA Terminal 4 – Steel Topping
D – AA Terminal 4 – Headhouse joint
E- AA Terminal 4 – Exterior BRBF